Hello,
Not sure if I should post this in the bugtracker but here goes...
I'm attempting to install Etomite v0.6 (RC2) over (RC1) and continue receiving the above message. The connection to the database goes smoothly before I receive the error message about importing the default site, and a lot of undecipherable code. :?
Here's a screen grab of what happens: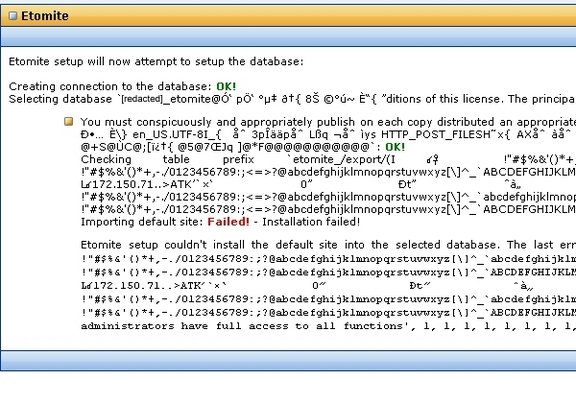 Can anyone show me where I'm going wrong? Would it have been a better idea to overwrite the files rather than run the installer?
Regards.
The full message reads:
"Etomite setup couldn't install the default site into the selected database. The last error to occur was
You have an error in your SQL syntax. Check the manual that corresponds to your MySQL server version for the right syntax to use near '' at line 1
during the execution of SQL statement INSERT INTO `etomite_/export/"